Last week I hosted a focus group to discuss women's beliefs about discovering and living their life purpose. One challenge that came up over and over again was fear.
For example, with regard to discovering and living their life purpose, these women experienced fears like:
What if I do it wrong?

What if I'm not on the right path?

What if I end up rejected and alone?

What if I'm not good enough?

What if I misinterpret what God is trying to tell me?
When all these fears started coming up, I asked the group, "What would you want a friend to say to you to help you overcome your fear so you could move forward?"
Here are just five of the 20 brilliant answers they gave me. As you struggle with overcoming your fears about life, business, and "getting it right", I hope these suggestions will be a blessing to you. (Keep an eye out for the rest of my group's good advice for fighting fear over the next three weeks!)
Tip #1: Pray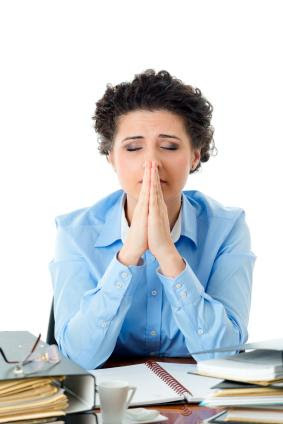 I like the old saying, "Pray like everything depends on God and then work like everything depends on you." The general consensus of my focus group was that we try to do too much on our own. We need to pray more. We need to truly, fully and faithfully cast our burdens on the Lord. We need to give Him our fears so that we can move forward.
What is one fear or worry that you will turn over to the Lord in prayer today?
Tip #2: Take Baby Steps
One thing that leads to fear—or at least a feeling of inadequacy—is being overwhelmed by the size of a task. I once heard a pastor speak in church. He was an engineer by profession and explained the idea of tactics and strategies in a way that, for once, made sense to me.
He explained that when his engineering firm starts planning a project, they take a 60,000 foot view. They look at the big picture and decide what needs to be done. When the project begins, they zoom in to a 50 foot view, looking at only one or two steps to be completed at a time (or within a specific time frame).
When we live everyday at the 60,000 foot view level, there is simply too much to take in. There is too much to do! Zoom in to the 50 foot level and ask, "What are the next one or two steps I need to take in order to move forward?" Taking just one or two steps at a time can increase confidence and eliminate fear.
What project or task seems overwhelming to you? How can you break it down into smaller tasks you can begin accomplishing this week?
Tip #3: Have Faith
Jesus told His disciples, "If ye have faith, and doubt not…ye shall say unto this mountain, Be thou removed, and be thou cast into the sea; it shall be done" (Matthew 21:21). Whether it's living your life purpose or building a business, sometimes it feels like you have to move mountains in order to get the job done. Jesus tells us how to do this—have faith AND banish all doubts from your mind.
Doubtful, worrisome thoughts are directly tied to feelings of fear. Replace your doubts with faith-filled thoughts and your fears will disappear.
What is filling you with worry this week? Write down your worrisome, doubtful thoughts and then rewrite them in a way that expresses faith.
Tip #4: Believe in Stepping Stones
Stephen Covey tells us we need to "begin with the end in mind". But when we apply that broadly to our lives or to our businesses, we find ourselves hovering at the 60,000 foot level again, wondering how on earth we're going to get everything done—or even figure out what the "big picture" plan is to begin with.
Another concept my focus group found helpful is "stepping stones".  A stepping stone is not a beginning or ending point when it comes to achieving your goals or your life purpose. A stepping stone is a step you take along the path that helps you make progress toward your end goal or purpose.
 When I started writing marketing copy for Infusionsoft, I knew in my heart that it wasn't supposed to be the end goal for me. I knew (and I mean that in a spiritual sense) that it was a stepping stone along my path and that the skills I would learn would eventually be used to do something greater and more meaningful.
Transitioning out of writing copy for clients was very difficult for me. But one thing that made it easier—that helped me move forward with greater faith—was knowing that it was a stepping stone and that I needed to keep moving forward to whatever God had in store for me next.
What stepping stones have gotten you to where you are today? What have those stepping stones prepared you to do or to contribute to the world and the people around you?
Tip #5: Talk to Someone
Too often we feel afraid because we feel alone. We assume that we are the only
one who has ever encountered the challenges we are facing or the feelings that come with the challenges. During the focus group, there was a renewing sense of agreement, a sense of solidarity that we are all in this together. But none of these women would have felt that sense of community and sisterhood if they hadn't come over to my house to talk about it.
While Facebook seems to be the place to turn these days to vent fears and frustrations, the best solution to reducing your fears to is get together with one or more friends, in person, and to talk about the fears you are experiencing. You will discover that you are not alone.
Who are the friends you can truly talk to? Call someone today and schedule a time to get together.
Reach Out for Support
Fear can be immobilizing. Fear can prevent you from achieving your heart's dream and even your God-given life purposes. Whether it's being afraid to raise your hand to ask a question in a classroom or hesitation to offer your new product to the world, fear MUST be dealt with. It can be overcome and the five tips you've read this week are just a start.
If you're struggling to move forward in your business or in life, why not reach out for help? Life coaching may be the solution for you.
To have a conversation with me about your challenges, fears and goals, visit https://www.timetrade.com/book/85LPS now to schedule a complimentary strategy session. We'll evaluate your situation and identify steps you can take now to start moving forward!